Posted October 18, 2019 at 12:09 pm
Hi. I know I have no business asking for this help, but this surgery isn't covered by my province and drawing a comic doesn't come with medical. So I'm trying to save up as much as I can for this, but I can't do it without your help.
--> The link to donate <--
If you've missed it, I came out as transgender a little over six months ago. I go by Ellipsis Hana Stephens now and my pronouns are she/her. It's wonderful to meet you. :)

I've posted this on Twitter, but in case you've never seen it, here's my way of describing how gender dysphoria feels to me...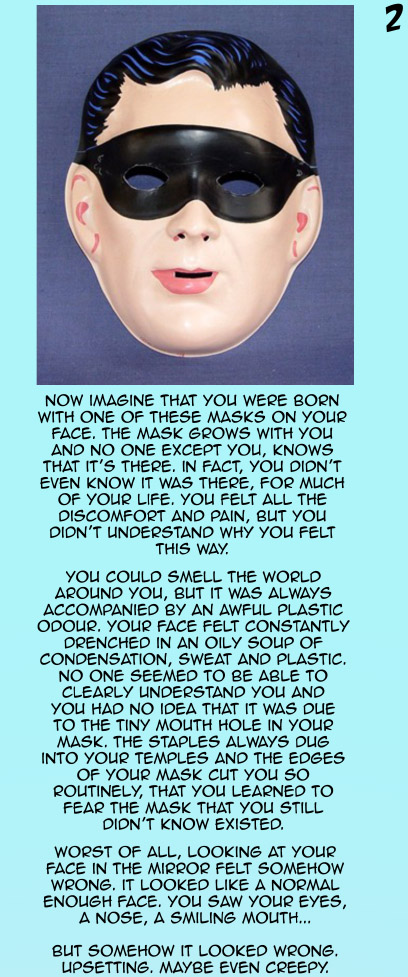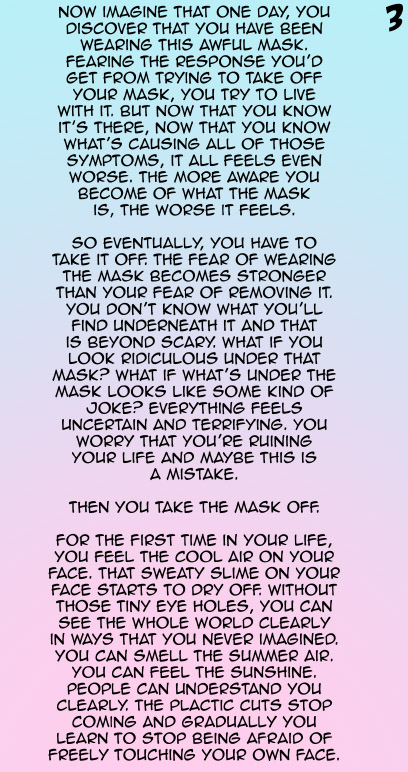 I knew transitioning would be expensive. I've re-adjusted my life to be able to pay for the thousands of dollars that it requires, but facial feminization surgery is a necessary step that I can never pay for without some help. This is a selfish ask, I know. It's going to get me some hate and I understand that. But taking on my gender issues has removed my old tricks of pushing those feelings of emotional nauseousness deep down inside. That feeling of broken hearted terror, sits on the surface, with nowhere to hide and it's not something I can ignore or deal with.
I know some of you might not understand this and I respect that. Asking this is terrifying me, but it's nowhere near as bad as I feel, when trying to accept that I'll never be able to fully remove this mask on my face. If you want to help in ways outside of giving money, spreading the word also really helps me.
I've set the goal at $15,000 but the cost will be closer to $20,000 or so. But if I can get help up to $15,000, I can make a few more sacrifices, tighten my belt further and save up for the rest. Keep in mind that these are funsized Canadian dollars, so your American dollars go a lot further and get me to that goal faster.
I'm writing a thank you note to each person who donates, so if you have any questions, just ask them in the note section and I'll answer them as best I can. If you have questions you want to ask without donating, you can email me or message me on Twitter (Twitter is easier for me to manage).
Whether you're able to help me out here or not, thank you for hearing me out and thank you for reading my comic. You're wonderful and I'm lucky to get the support I do from you.
- Elli
--> The link to donate <--
My transgender specific Twitter
My email is goblins@dccnet.com